News and notes about KO Boxing's latest "Collision Course" card featuring the Alberta homecoming of top lightweight world contender Arash Usmanee that takes place Friday night in Edmonton, Canada!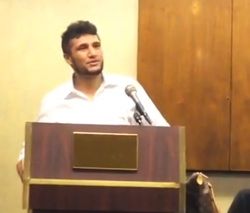 After another exciting showing on the Manny Pacquiao vs. Tim Bradley II undercard, Afghan-Canadian warrior Arash Usmanee (20-2, 10 KOs) returns home to Alberta Friday night in Edmonton when he will headline KO Boxing's "Collision Course" card. All of the action goes down Friday night, June 13 at the beautiful Shaw Conference Centre in Edmonton, Alberta. The action is set to get underway at 7:15pm. General Admission Tickets available at Ticketmaster.ca
"It feels great for me to be back home to showcase my talent for my family and friends," Usmanee told FightFan.com this week. "I'm looking forward to putting on a show and excited to produce what will hopefully be another epic moment, God willing!"

Edmonton fans will be in for a treat as fast rising Alberta-based prospect Josh Wagner (4-0, 3 KOs) will fight in a co-featured bout against the always durable Dave Aucoin. The bout has fire-fight written all over it as both men like to come forward and bang, although the edge should rest with Wagner who is an adept boxer-puncher.
"I love fighting on these cards at the shaw conference centre," Wagner told FightFan.com this week. "Mel and Milan put on great shows and I'm so happy to be a part of the team. My career is progressing just how I pictured it and it's only going up from here. We plan on being 10-0 by the end of the year and then let the titles begin! For any Fight Fans out there… remember the name Josh 'The Boss' Wagner!"
Surging Canadian lightweight Cam O'Connell of Red Deer, Alberta was set to see action in the co-main event, but his opponent pulled out at the last minute and unfortunately there wasn't enough time to find a replacement.
"I'd like to say sorry to my fans, friends and family," O'Connell said on his Facebook page. "Unfortunately my opponent has pulled out at the last minute and a replacement couldn't be found. I apologize to those who were planning to make the trip but I promise the card will still be a good one because my big bro Arash Usmanee was looking mean in camp and he will surely put on a great fight. Please come out and support him and what will be a great night of boxing in Edmonton!"
There is no shortage of action, however, with Cody Ries, Taylor Bull, Suki Keo, Justin Hocko and Sheena Kaine all slated to throw down.